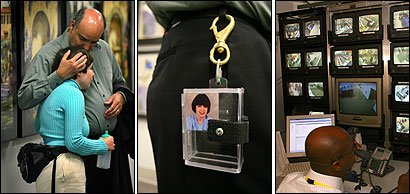 At left, Ricardo Mesa recently hugged his daughter, Nicole, when he visited her at the Rotenberg Center. Center, clear boxes, each with a child's photo, contain the activation switch. At right, rooms in the school are monitored by video cameras. (Photos by John Tlumacki/ Globe Staff)
CANTON -- When New York regulators meet today to consider limiting a Massachusetts school's use of electric shocks as punishment, it will not be the first time that states have tried to rein in the unorthodox methods at the Judge Rotenberg Educational Center.
Massachusetts officials tried to close the school in 1985 after a student with autism died while being forced to listen to loud static through a helmet. They tried again in the mid-1990s when the school began giving mild shocks to students for misbehavior.
Each time, judges protected the Rotenberg Center, siding with parents who said the school had improved the lives of children with autism, mental retardation, and emotional problems after gentler methods had failed. And doctors concluded the death was caused by the student's neurological disorder.
Now, the center -- the only school in the country to rely so heavily on painful punishments -- faces a challenge from the state that supplies almost two-thirds of its 251 students. Today, the New York Board of Regents is scheduled to debate emergency regulations that would severely limit electric shock and other corporal punishment on students from New York after one New York teen complained that the shocks were a form of torture.
"Mommy, you don't love me anymore 'cause you let them hurt me so bad," sobbed the former Rotenberg Center student, Antwone Nicholson, 17, to his mother, Evelyn, according to her sworn statement. The family plans to sue the state of New York for $10 million for sending the teen to the school where he received 79 two-second shocks over a year and a half.
If New York adopts the rules, Rotenberg officials would need permission from a panel of three specialists for each child they want to shock, in addition to the court and parental approval they already obtain. The limits on the use of electric shock could require a fundamental change in the school's methods -- currently half the students, including 77 from New York, wear electrodes so that teachers can shock them.
But Matthew Israel, the psychologist who founded the school in 1971, is counting on parents to mount an eloquent defense against the limits. They have written 82 letters in support of the school that are posted on its website, www.judgerc.org.
"When you first hear about a school that uses skin shock, it's shocking if you don't understand the severity of the mutilation that the students would otherwise engage in," Israel said.
The debate over the private residential school -- which costs local school districts and states more than $200,000 per student each year -- boils down to whether there are children who pose such a danger to themselves that an electroshock version of ''tough love" is justified.
Mark Fridovich, deputy commissioner of mental retardation, said in a recent interview, "There are a small number of people who have very severe and frequently multiple problems where other treatments have proven to be ineffective.... For this small number, what the Judge Rotenberg Center has done has proven to be effective." More than 60 Massachusetts children and adults attend the school.
But many others say electric shock violates human rights. This year, 20 advocacy groups are pushing a bill in Massachusetts to ban the punishments used at Rotenberg.
"We don't do this to prisoners in the criminal justice system, so we shouldn't be doing it to people with disabilities," said Leo Sarkissian, executive director of the ARC of Massachusetts, an advocacy group for people with mental retardation.
At first blush, the Rotenberg Center seems more like a theme park. Rooms are filled with statues and posters of cartoon characters, chandeliers that glisten like disco balls, and plush, brightly colored furniture. But a close look at the neatly dressed students shows that about 50 percent have electrodes strapped to their arms or legs and that the teachers carry activation switches on their belts inside clear plastic boxes, each labeled with a child's photo.
Student Catherine Spartichino received her first shock after an obscenity-laced rant at a teacher who would give her only half a bagel. With the push of a button, the teacher sent a startling burst of energy into Spartichino's forearm that the 19-year-old remembers vividly four years later.
"They zapped me!" recalled Spartichino, a suicidal teen who was made to wear three electro-shock devices. "It feels like you stick your finger in an electric socket for two seconds, and the tingling didn't stop right away."
Spartichino now believes the electrodes, called "gradual decelerator devices," turned her away from "suicidal gestures" like banging her head until she was black and blue. This month, she graduates from the school and expects to attend college in the fall.
However, one former Rotenberg Center employee said that other students endure far more pain than Spartichino, especially the 15 to 20 who are equipped with higher-powered devices that deliver 45 milliampere shocks -- 4 1/2 times stronger than the standard shocks. Greg Miller, a former teacher's assistant for more than three years, said one boy with autism was shocked by the higher-powered device so often that he had ''burn scabs all over his torso, legs, and arms," forcing nurses to remove the electrodes for weeks so that his skin could heal.
State Police are investigating his allegations.
Rotenberg officials deny that the unnamed student was burned, saying the electrodes were removed because of other medical conditions. They also say that the child's parents still support the shock therapy.
The case of Antwone Nicholson is in some ways more typical. He came to the center with a history of aggression after treatment at five psychiatric hospitals, and, with his mother's consent, the school began shocking him for behaviors ranging from defying teachers to banging objects. School officials said his behavior immediately improved.
The school also said that the number of shocks Nicholson received -- about one per week -- is average, and he received them for a shorter period than the 26-month average before transferring recently to another school.
Evelyn Nicholson initially approved the shocks, but said she changed her mind as her son became more desperate, complaining that the shocks knocked him to the floor. Previously, she said, "I was advised that the shock...felt like a small pinch," and that the devices were rarely used.
Investigating Nicholson's objections, New York officials found that many more New York students were subjected to shocks than they had believed: 77 out of the 151 at the school. Last week, Rebecca Cort, New York State's deputy education commissioner, called for tight limits on the use of shocks, saying she could find no independent proof that they work.
Though enrollment at the center has tripled in recent years, specialists who treat disabled children question whether so many students need such treatment.
"I have seen about a dozen cases out of hundreds and hundreds that would not respond to our positive-based approaches," said L. Vincent Strully, director of the New England Center for Children, a Southborough program for children with autism. "Behavior that is not life threatening...does not require that you shock them."
Scott Allen can be reached at allen@globe.com. © Copyright 2006 Globe Newspaper Company.