Virginia school aims to build character
By Sonja Barisic, Associated Press Writer
Seattle Post-Intelligencer, July 23, 2004
---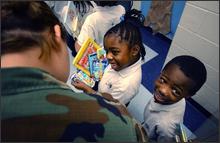 Specialist Amanda Schorn visits with 2nd grade students Jazmin Chapman, 7, and Fareed Salahuddie, 8, after the completion of morning assembly at "An Achievable Dream school" in Newport News, Va., in this Jan 29, 2004 file photo. The magnet school, which takes inner-city kids and teaches them how to set a formal table, resolve conflict and speak proper business English as well solve math problems. (AP Photo/Daily Press/Adrin Snider

NEWPORT NEWS, Va. -- Students walk into school, greet waiting teachers with a hearty look-you-in-the-eye handshake and assemble in the gym. There, they stand at attention, say the Pledge of Allegiance and sing the national anthem under the watch of soldiers from nearby Fort Eustis, who also inspect the kids to make sure they're wearing their proper uniforms.

A few children pass around a microphone and take turns leading the group in shouting slogans such as "I am someone special" and "Believe in yourself."

Thus began a recent day at the magnet school, which takes inner-city kids and teaches them how to set a formal table, resolve conflict and speak proper business English as well as solve a math problem. After only a five-week summer break, the students return to school Monday while most public schools in Virginia reopen in late August or September.

"What we're attempting to do is take these kids with great potential and make sure they realize it," said Walter S. Segaloff, businessman and founder of An Achievable Dream. "We want to have productive, law-abiding, educated citizens."

Standardized test scores seem to indicate the school's approach is working, with officials saying they have closed the so-called achievement gap between minority and white children.

An Achievable Dream Academy even has caught the attention of U.S. Secretary of Education Rod Paige, who visited in mid-June and lauded the school for demonstrating the power of education over poverty.

Other public school systems also are looking at An Achievable Dream as an urban educational model, school officials said. The Urban Learning and Leadership Center, the program's new consulting arm, has been contacted by school systems in Maryland, Indiana, Louisiana and elsewhere.

An Achievable Dream, located in the inner city, is a partnership among the Newport News public school system, the city and the local business community. It began in 1992 as a summer education and tennis program for about 100 fourth-graders, becoming a full-time school in 1994.

Nearly 1,000 children are enrolled in the program, which consists of a preparatory school for kindergarten through second grade, An Achievable Dream Academy for third through eighth grade and a high school component.

Ninety-six percent of the students are black. Most live in the city's poorest neighborhoods and many come from single-parent households. All qualify to receive free or reduced-cost lunches when they enter the program. The fathers of two students recently were murdered, school officials said.

Character education is the cornerstone of the program, which emphasizes integrity, honesty, courage, patriotism and respect for one's self and others. Banners with motivational phrases and school rules hang throughout the building.

"It's a safe place where you're going to be nurtured," said John Hodge, academy director.

But, he added, discipline and structure are key.

"We don't want to love children into failure," he said.

Some students said they didn't like some parts of the program, such as having to wear uniforms or sometimes having school on Saturdays.

"I don't like being here that long," Christal Peeples, 10, said last month of the academy's 8 1/2-hour days, compared with the typical 6 1/4-hour days in most public schools. The kids also attend school 210 days a year instead of the minimum 180 days required by state law.

But the kids said in interviews in June that they liked their teachers. "They don't make it hard, and we get to learn stuff," said Robjea Mitchell, also 10.

They also said they liked playing the only sport at the school, tennis, which is a requirement. The idea is that tennis teaches discipline and good sportsmanship, doesn't require a lot of expensive equipment and is something the students can play throughout their lives.

Eighty percent of the students passed the 2003 Virginia Standards of Learning tests, compared with 85 percent statewide for white students and 60 percent statewide for black students, according to the school.

Results on 2004 scores available so far showed 100 percent of the students passed algebra I and geometry, 93 percent passed eighth-grade writing and 86 percent passed the fifth-grade writing test.

About 90 percent of the program's high school graduates have gone to college, with the rest joining the military.

Rick Weigel, CEO of the Peninsula Alliance for Economic Development, said local businesses support An Achievable Dream because the program does a good job preparing children for work.

"I've been at a number of private and public schools, and I've never seen a school environment like that with those age levels where the kids were so well-behaved and so well-mannered," Weigel said. "It's hard to take a tour and keep a dry eye."
Norm Lee Comments on "An Achievable Dream Academy"
Letter to Project NoSpank, July 24, 2004
---
The "Achievable Dream" is first a fantasy, then a nightmare. Like the goose-stepping "wonderful" adults in "Sound of Music", they have the children all so obedience trained there is no distinction between their mindset and the dictatorial system they are seeking to escape. "Stand at attention", "pledge allegiance", "proper uniforms", inspected by soldiers. It has fascism written all over it. Wonderful, all agree, because it is for the child's own good. Success is God. "Believe in yourself" has an Orwellian ring, since the purpose is to alienate the child from his/her authenticity, and serve Big Brother and don't make waves thinking original thoughts.

"We want to have productive, law-abiding citizens," says the businessman who created this monster program and sold it to gullible, TV-sitcom oriented parents. Are we surprised that Pres. Bush's Sect'y of Education beams on it admiringly? It's his boss's dream/fantasy too. Teach the ghetto poor "how to set a formal table and speak proper business English," alienate them from their Black culture to embrace middle-class values, and they'll be just like the Bush twins with heavy tans. I've worked in the ghetto, and I know it takes some doing to make a Black kid give up his authenticity. Because that's all he's got left, having been screwed out of everything else. Some will become Honorary Whites, the best of the rest will say, "Sheetman, they con me, I con them." They'll have Bush & the businessmen thinking they're successful, and take the Program for all the grants it can get. I've been there.

The kids don't like the "Academy", and say so. They don't like the longer days, the longer seasons, standardized tests, uniforms, Saturday classes. But they get to feel special - because they get to chant egoistic slogans on mic with the group. The businessmen love it, because they believe more is better. Not so with kids' learning. Research shows that out of a normal school day, time actually spent learning averages 15 minutes. The rest is busy work and control tactics.

"If you call a dog's tail a leg, how many legs does the dog have?" asked young lawyer Abe Lincoln of a witness. "Five", came the answer. "Wrong, still four," corrected Abe. "Calling a tail a leg doesn't make it so." In this semantic quagmire, let's recognize that these loaded terms "education" and "leadership" and "character" have meanings for the Bushites far afield from our own definitions. "Discipline and structure are key," prates the director. "We don't want to love children into failure." Thank God! Watch out for the "L" word! The ghost of Dr. Spock! Too much love and the kids will turn to crime!

Big businessman Weigel, CEO of PA Alliance for Economic Development, loves it as does local businesses. They imagine the Academy is training workers for them. But the training they receive has been obsolete since the Thirties, adopted from the German gymnasium and designed for the Industrial Age. These people think they're on the cutting edge of educational philosophy.

All thru my years of teaching public school and teaching groups of teachers in three universities, I placed my trust in the inefficiency of the System. I felt that if those in control of schools ever achieve their ultimate aim - the absolute suppression of the will of the individual child, we will have failed as classroom teachers. Because learning long division and grammar is far less important than protecting the sacred integrity, dignity, and individuality of the child.

In my Philosophy of Education graduate courses I'd stick my head out the door, look up and down the hall, and say to the students, "We must choose between the children and the State; serving the mental, emotional & psychological needs of the children, or conditioning them to be obedient citizens and consumers. Since it is the State that pays us, teaching is a hazardous profession."

After that sunk in, I'd add, "In the interests of full disclosure, you should know that in my philosophy a teacher of intelligence and compassion MUST be a subversive. We are Camus and Sartre in the French Underground, undermining the suppressors. And it is my view that we either act as commandoes for the best interests of the children, or get out of the business and drive a cab. The money's better."