A Los Fresnos family is asking a state district court to stop a Cameron County justice of the peace from ordering spankings in his courtroom and to remove the judge from office.
Mary Vasquez and her husband Daniel Zurita filed a lawsuit Wednesday on behalf of their minor daughter against Cameron County Pct. 6 Justice of the Peace Gustavo "Gus" Garza.
Brownsville lawyer Mark Sossi represents the family.
The petition alleges that on April 9, Garza told the then-14-year-old girl and her stepfather that the teen would be found guilty of a criminal offense and fined $500 for not attending school unless Zurita spanked her in the courtroom.
Garza declined to comment Wednesday.
"I don't know anything about it," said Garza, noting that he has not seen the lawsuit. He also declined to say whether he's had people spanked in his courtroom.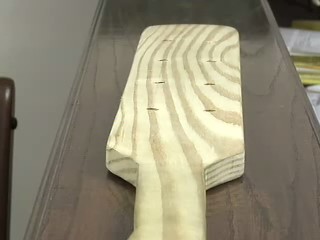 Paddle
The petition alleges Garza directed Zurita to repeatedly strike his stepdaughter on the buttocks with a large, heavy wooden paddle fashioned from a thick piece of lumber in open court and in the presence of other adults and juveniles.
"The word 'club' could be fairly used as a substitute for the word 'paddle' here as it appears to be something which may have been cut from a (two-by-four) piece of lumber," Sossi wrote in the petition.
"The paddles provided by the judge are of such heft and weight that an individual striking an animal with one might be reasonably reported for cruelty to an animal," Sossi added.
Zurita stated in an affidavit that, "I did not feel that I had a choice but carry out the orders of the judge. When I was finished, Judge Garza told me that I had not struck (my stepdaughter) hard enough ..."
Zurita stated in an affidavit attached to the petition that Garza ordered the public spankings of other minors in his courtroom Wednesday.
The girl's mother stated in her affidavit that the public paddling caused her daughter to "suffer not only physical pain, but also caused her to be frightened, degraded, shamed and embarrassed."
Vasquez stated that she also was present in court Wednesday when Garza ordered the paddling of other minors.
"It is unconscionable that a Texas judge would order a parent, much less a step parent, be required to strike a child with such a thing in a Texas courtroom," Sossi wrote in a footnote on the petition. "It is equally unconscionable that an argument could be made that such an order would fall within the lawful authority of any Texas judge."
"It is clear that in this case, the judge's proposed cure for truancy is worse than the disease," Sossi stated.