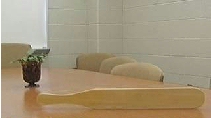 Wooden Board that's used on children
Tulsa - Parents of one local school are reading through a letter about allegations of corporal punishment. Three elementary school employees are on paid leave today as the district investigates.

The alleged incident happened last week at Hawthorne Elementary in North Tulsa. The letter sent to parents doesn't go into a lot of detail, saying only that the district was made aware of the situation by a third party claiming that one or more employees used corporal punishment to discipline one of its students.

The school district won't go into specific detail because the investigation is still ongoing. What we do know is that three employees have been asked not to return to the school until administrators can question every employee first.
The use of corporal punishment like spanking or paddling by a teacher is legal in Oklahoma, but Tulsa Public Schools Chief of Police Gary Rudick says it goes against school policy.

"District policy for Tulsa Public Schools is that corporal punishment is not permitted," Rudick told NewsChannel 8. "Even parents are not allowed to utilize corporal punishment on school property."

If the allegations are found to be true, Rudick says the school district will take any necessary actions, which could include termination.

If the allegations are found to be true and excessive, the parents could press charges and the case would then be handed over to the Tulsa Police Department.