Teacher beats pupil to death
Times of Swaziland, By Mabandla Bhembe, March 7, 2009
---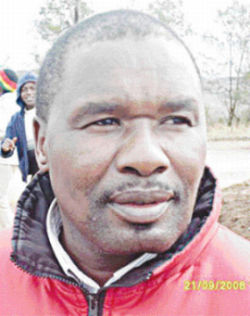 Shocked: Minister of Education Wilson Ntsha-ngase.
MBABANE - A nine-year old pupil from Kuhlamí-keni Primary School was allegedly sjamboked to death by her female teacher.
The incident happened late last month at the school that is based at Mafucula area in the Lubombo region.
According to information gathered from a source, when the pupil went home after school, her grandparent (gogo) realised that her body was bruised and swollen.
The child also looked not well despite that she left home in high spirits.
Injuries
She immediately took her to the nearest clinic. Upon arrival, the nurses declined to provide any medical assistance due to the pupilís health condition and severe injuries on her body.
Instead the nurses referred the grandparent and the pupil back to the school and police station where a report was to be sought.
When Gogo returned with *Thandi to school, the principal identified as Mabila and the school deputy immediately transported *Thandi to Good Shepherd hospital in Siteki.
Upon arrival at the hospital, *Thandi was pronounced dead.
"We were deeply shocked and aggrieved to hear about the sudden demise of such a young child. To make things worse, it all started at school where children are educated and nurtured for the future. It is hard to understand why the pupil was severely beaten and her death is just devastating. This has never happened at the school," said the source.
Police Public Relations Officer (PRO) Superintendent Vusi Masuku confirmed the incident.
"It is true that a pupil from Kuhlamkeni Primary School passed away last month and Tshaneni police are conducting investigations into the circumstances that led to the death of the child," said Masuku.
Postmortem
"A postmortem was conducted this week by the police pathologist and body tissues have been taken for further analysis. We will be waiting for a full report from the pathologist," said Masuku.
The teacher in question has not been suspended at work and cannot be charged as yet.
The Ministry of Education is expected to look into the matter once the police have finalised their report.
Minister of Education Wilson Ntshangase condemned the teacherís action. "I will be requesting the Regional Education Officer (REO) to visit the said school by next week," said Ntshangase.
Brutalise
"Such incidents are sad and it is totally wrong for any teacher to brutalise pupils. Teachers should not be allowed to enforce corporal punishment but only the principal has the right to do so.
"Teachers can only do so through their principalsí consent and in full view of the two. Besides, there are rules on how pupils should be punished.
"We as a ministry have emphasised to teachers that they should avoid punishing pupils under emotions as anything is bound to happen," added Ntshangase a former principal himself.
The minister also confirmed that his office was looking at ending corporal punishment in the near future.
Efforts to get hold of the teacher concerned and *Thandiís grandparent were not successful.
---