YORK, Pa. — Prosecutors in central Pennsylvania say they will seek the death penalty against a couple charged in the beating death of the 7-year-old son they adopted from Russia.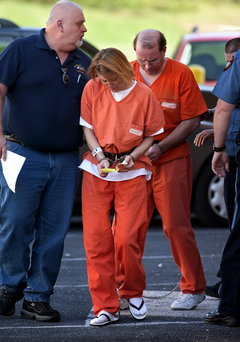 Photo: Dan Gleiter, The Patriot-News

Nanette and Michael Craver leave their preliminary hearing.

Forty-five-year-old Michael Craver and 54-year-old Nanette Craver of Carroll Township in York County are charged with criminal homicide, child endangerment and conspiracy.

They adopted Nathaniel (formerly named Ivan Skorobogatov) and his twin sister in 2003 from an orphanage in Russia. The girl is now in foster care.

Authorities say the boy died Aug. 25 of complications from traumatic brain injury and was malnourished. Defense attorneys say there is no proof that the couple injured Nathaniel.

Senior deputy prosecutor Jennifer Russell said at a hearing Monday that prosecutors will seek capital punishment due to the child's age and their contention that his death constituted torture.