WORCESTER — No proms, first kiss or kindergarten graduation; they are all things 2-year-old Raelynn T. Mascal will never experience.
Those events were ripped from the little girl's life by someone who should have protected the child — her mother, Assistant District Attorney Paula J. Frasso said in Worcester Superior Court yesterday.
Michelle L. Lepkowski, 35, formerly of 55 Grant St., Gardner, was sentenced to 12 years to 12 years and a day on a charge of involuntary manslaughter stemming from the May 18, 2007, death of Raelynn.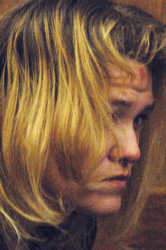 Ms. Lepkowski

"The defendant is not a mother, she was a monster and it was evidenced that day," Ms. Frasso told Judge Janet Kenton-Walker.

Prosecutors said Ms. Lepkowski inflicted fatal injuries to her child during a beating that began as a spanking the day before she died. An autopsy determined the tot died from blunt impact and shaking injuries of the head, neck and torso.

Ms. Lepkowski was found guilty of involuntary manslaughter in October by a jury. She was originally charged with murder, but the jury found her guilty on the reduced charge.

Ms. Lepkowski, who held her head down during most of the sentencing in Worcester Superior Court, was also ordered to serve seven years of probation on charges of assault and battery on a child causing substantial injury and reckless endangerment of a child. One condition of probation is that she has no unsupervised contact with children under 16.

Ms. Frasso said Ms. Lepkowski cared only about herself and not about her young daughter. She wanted the mother to serve 18 to 20 years, then another five.

The prosecutor went over the details leading up to the child's death. The beating that occurred the night before and the failure to call for help until the following morning were recounted by Ms. Frasso.

The state Department of Social Services investigated a report of abuse involving 2-year-old Raelynn T. Mascal less than two weeks before the child's death, a DSS official said.

SOURCE: www.highbeam.com

She told the judge Ms. Lepkowski seemed odd during interviews with state police investigators and even talked about NASCAR at one point.

Ms. Frasso believed a long sentence was merited and Ms. Lepkowski should serve a day for every day Raelynn would have lived up to age 18.

The child's father, Patrick Mascal, said no sentence will ever bring back his daughter.

"Raelynn will still be cold and dead and buried under the frozen earth," he said in his statement to the court. "My daughter is gone. She will never come back to me."

Ms. Lepkowski's lawyer, Barry P. Wilson, argued that an 18- to 20-year sentence was extremely high and wanted his client to be given time served and placed on probation.

He said there were still serious questions about what happened to Raelynn and said his client maintains her innocence.

Judge Kenton-Walker said sentencing guidelines listed a shorter sentence and her decision cannot be based on impulse. The judge said judicial discretion needed to be exercised while issuing the sentence.

The child should not have suffered, she said, and one thing was clear to her:

"It is all about Michelle. That is who Michelle cared the most about," Judge Kenton-Walker said. "There is no sentence that is going to bring back this child."

Prosecutors said Ms. Lepkowski inflicted fatal injuries to her child during a beating that began as a spanking the day before she died. An autopsy determined the tot died from blunt impact and shaking injuries of the head, neck and torso.

Authorities were called to the Grant Street home May 18, 2007, after Ms. Lepkowski found that her daughter was not breathing. She told officials the girl injured herself in a fall at a playground.

Mr. Wilson argued his client tried to make life better for the little girl and went to therapy before the child's death. Ms. Frasso said Ms. Lepkowski tried to cover up the child's injuries and took steps to protect herself.

"She was concerned about No. 1 and No. 1 was Michelle Lepkowski," Ms. Frasso told Judge Kenton-Walker.

Read more: www.telegram.com/article/20101221/NEWS/12210400/-1/NEWS06#ixzz18nM6pxY6