SANTA ANA – Jurors in a murder trial squirmed in their seats Wednesday as they watched a video of a police interview of a Cypress man who admitted to repeatedly hitting his 2-year-old niece with a belt on the day she died because she would not potty train.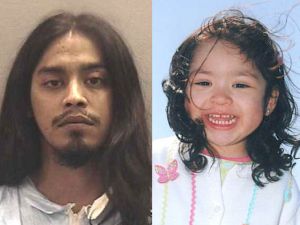 Michael Balderas and Jo Jade
Michael David Balderas told Cypress detectives in the video that he believed Jo Jade was defying him by continuing to mess her diapers even though he had warned her that such behavior would result in "pow pow," or more beatings.
At one point, a detective asked, "Is she doing this on purpose ... to get to you?"
And Balderas answered, "Personally, I think so."
Balderas admitted in the interview to hitting Jo Jade three or four times on March 30, 2006, before he noticed she was unconscious and not breathing after he ordered her to take a nap. He claimed he called his girlfriend to come home immediately as he tried to resuscitate the little girl before they drove to La Palma Hospital.
But doctors were unable to resuscitate Jo Jade, who was pronounced dead as a result of internal bleeding caused by blunt-force trauma and repeated injury.
Balderas, 33, is now standing trial before Superior Court Judge William R. Froeberg, charged with murder during the commission of child molestation, and assault on a child likely to produce great bodily injury resulting in death. If convicted, he could be sentenced to 25 years to life in prison.
In his opening statement last week, Deputy District Attorney Michael Murray said Balderas "beat her over and over and over again" to "teach her a lesson" because she was not potty trained.
Doctors saw signs of sexual molestation and reported it to police.
Deputy Public Defender Hong T. Nguyen acknowledged to jurors in her opening statements that "Michael Balderas spanked his niece and that spanking resulted in her death ... But one thing is clear. He did not – he never did – sexually molest her."
Balderas became Jo Jade's guardian in October 2005 when his sister and the child's father were arrested on federal drug charges in Texas. He brought the baby with him when he took up residence in January 2005 with his girlfriend, a teacher, on Twin Lakes Drive in Cypress.
On Wednesday, jurors watched the videotape of the police interview where Balderas insisted that he did not molest Jo Jade during the five months he was her guardian. "No, never," he said.
But Balderas did admit in the videotape that he forced her to look at him when he was disciplining her for diaper accidents, and that he saw bruises on her legs from the last of several beatings.
"And that was the point it was like ... that's not right," Balderas said in the videotape. "I am not denying I spanked her. I mean, I spanked her."
Cypress Police Det. Chris McShane asked, "You feel you crossed the line in your spanking?"
Balderas replied, "I don't want to say cross the line, but I think ... I could have done it less."

Contact the writer: lwelborn@ocregister.com or 714-834-3784