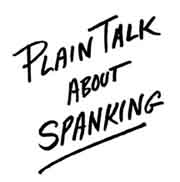 ---
"Plain Talk about Spanking" is our most frequently requested item.
To obtain ONE FREE COPY, e-mail us at booklet@nospank.net. Specify "Plain Talk," and give us your postal address.
TO PRINT YOUR OWN booklets using your computer and printer, follow these instructions:
Open this Web address www.nospank.net/pt2009.pdf
Load printer with 8.5" x 11" paper. We recommend 32 lb white.
Set print options to black ink only.
Print all odd-numbered pages of the PDF.
Load printer with the pages you have just printed so that the reverse sides can be printed with even-numbered pages resulting in 1 and 2 being back to back, 3 and 4 being back to back, and so forth.
Verify that pages are correctly colated, then fold.
Staple pages on fold using "long reach" stapler or saddle stitcher.
TO RECEIVE ADDITIONAL BOOKLETS from us, make a $1 donation per booklet using our PayPal donation button or JustGive donation button at www.nospank.net/donate-3.htm, or write a check payable to PTAVE, specifying "Plain Talk" in the memo, and mail to PTAVE, P.O. Box 1033, Alamo, CA 94507.

NEED HELP? Call 925-831-1661.

PTAVE is a 501(c)(3) nonprofit corporation, Federal I.D. #94-2284062. Donations are tax-deductible as allowed by law.
---
www.nospank.net

NEWS ARCHIVE
News8 - February 9, 2009 - Present
News7 - August 10, 2007 - February 9, 2009
News6 - August 21, 2006 - July 23, 2007
News5 - January 3, 2005 - April 18, 2006
News4 - November 6, 2002 - December 26, 2004
News3 - July 7, 1099 - October 26, 2002
News2 - May. 1, 1998 - June 27, 1999
News1 - April 27, 1976 - April 30, 1998