Members of the loose-knit group, which investigators have nicknamed "the Spanking Club," harshly beat children--often their own--with paddles, canes or other devices, and then exchanged videos of those spankings through the mail, officials said. The videos also featured close-ups of genitalia and other pornographic elements.
Those who investigate crimes against children say they cannot remember another such case, featuring an organized group focused on the pornography of spanking children. In all, authorities have removed 12 children ranging in age from 4 to 14 from their parents or guardians.
"What we're talking about, it was not just a little paddling with the hand on a kid's backside," said Raymond Smith, a senior U.S. postal inspector who worked on the case. "They're using paddles, whips, canes and severely brutalizing these very young children, sometimes as young as 4 years old."
Some of the defendants have yet to be sentenced, and other arrests may be made. But whatever the final numbers, the case illustrates a phenomenon becoming increasingly known among law enforcement: that the Internet has made it much easier for child pornographers to find each other and create and exchange material in violation of the law.
Five years ago, the FBI created an initiative called Innocent Images, sending agents undercover to stop on-line child pornographers by, for example, entering chat rooms in the persona of girls. These agents opened 113 cases in 1996. That jumped to 1,541 last year.
In the spanking case, the pornographers sent videos through the mail because it is difficult to transmit a 90-minute video online. But they often communicated with each other on the Internet, authorities said.
Veteran investigators said that even by the disturbing standards of child pornography, the activities of the Spanking Club were chilling. The films did not involve ordinary spanking, but rather beatings, and they included a clearly sexual element.
"Any time children are brutally beaten, it's the most outrageous type of conduct that we have to deal with," said Michael Heimbach, chief of the FBI's Crimes Against Children Unit. "It wrenches your heart. All the children's issues do, but when you see children being beaten on videos and their genitalia are being filmed, it's very, very disturbing."
Investigators' first break occurred in May 2000, when Canadian authorities intercepted a video mailed to an assistant school principal, David Wadsworth, and arrested him. He was carrying a phone bill that led investigators to David Patterson, a computer programmer in Dalton, Ga., who appeared to have been at the center of the ring.
A tape from Wadsworth's house showed Patterson "administering repeated spankings to four naked children, who cried out in pain during the prolonged beatings," said a prosecutor. Two of the children were Patterson's children, another was the child of a former wife, and the fourth was a family acquaintance, investigators said.
Patterson pleaded guilty and was sentenced last November to 10 years in prison. His ex-wife, Shirley Blaney, received 2 years.
More important from the investigators' perspective, Patterson agreed to cooperate, leading agents and inspectors to others involved in the group. Some of them beat children and made videos, while others simply trafficked in them.
There was Jim Nain, a railroad employee in Wisconsin Rapids, Wis., in whose house agents found hairbrushes, a rattan cane and other items.
There was Gordon Murray, an elementary school teacher in Brewton, Ala., who met Patterson through an ad in Domestic Discipline Digest.
There was Richard Roll, a male nurse and former scoutmaster from Jamestown, N.Y., who called his pornographic films "Rick Roll Videos."
And there was George Kelly of Lombard, Ill., who pleaded guilty last month to possession and distribution of child pornography. Kelly, 63, had been a volunteer Sunday school teacher at Christ the King Catholic Church in Lombard.
Kelly was creating spanking videos, investigators said, but they involved mannequins rather than children. During the search of his house, Kelly admitted to agents that he had manufactured and distributed simulated child pornography in exchange for "the real thing."
Kelly's sentencing is scheduled for April 19, and he faces a potential term of 70 to 87 months in prison.
Officials say they had to take down the organization quickly, rather than drawing out the investigation, because children were being abused. They do not believe there will be many other such cases, they said, because the group revolved around a relatively rare fetish.
Still, such people have a drive to get in touch with one another, and the Internet provides an easy way to do so, according to Smith, who heads the child exploitation unit at the Postal Inspection Service.
"They have a real innate need to communicate with others because deep down inside, they know what they're doing is wrong," Smith said. "But by communicating with each other and sharing experiences, it's a psychological support thing. It's a validation system. It makes them say, `See, I'm not so weird. There's a lot of other people out there that like the same thing as I do.'"
Strict disciplinarian or something else?
Headmaster faces jail for years of abusing students
www.dailymail.co.uk, September 3, 2010 A boarding school headmaster was facing jail last night after being convicted of abusing boys in his care.

Derek Slade, 61, picked out pupils as young as eight for 'sexual exploitation' and beat them with a cane, slipper or table tennis bat.

The self-confessed paedophile also held 'midnight feasts' where he would sexually abuse the boys.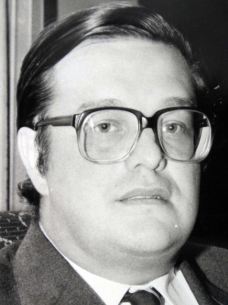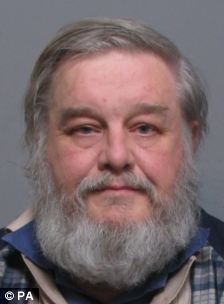 Derek Slade, then (1980s) and now (police mugshot).
He was arrested after former pupils contacted each other through internet social networking sites and alerted police. Oxford-educated Slade had been at the centre of an outcry in the early 1980s over accusations he was enjoying using the cane when corporal punishment was still legal. At the time he denied the allegations.
But yesterday a jury found him guilty of sexually assaulting and beating 12 boys from eight to 13 between 1978 and 1983.
Slade ran St George's School, which was initially based in Wicklewood, Norfolk, before it moved to Great Finborough, Suffolk, in 1980.
There Slade beat boys before ordering them to write about 'whackings I have had', Ipswich Crown Court heard.
Slade was arrested after former pupils complained two years ago. One victim said he had never told his parents what had happened. Another described Slade's assaults as 'reigns of terror'.
Slade confessed to being a paedophile and told jurors that there was a sexual motive behind the punishments.
He admitted assault, indecent assault and child pornography offences.
He denied allegations of more serious sexual assaults but was found guilty after a month-long trial.
The court heard that Slade, who has no teaching qualifications, set up the school with colleagues.
St George's had been in the spotlight in 1982 when a BBC radio programme reported on its harsh regime, the court heard.
Prosecutor Andrew Thompson said: 'His leadership has been described by some as a reign of terror. He derived some sexual pleasure from punishing the boys and comforting them afterwards.'
Mr Thompson said Slade chose a few boys as his 'particular favourites' for 'sexual exploitation'. He said he forced one to perform a sexual act on him in his office.
The prosecutor likened Slade to the violent headmaster Wackford Squeers in the Charles Dickens's novel Nicholas Nickleby
Slade admitted he had made boys take off their pants before beating them with the cane, slipper or bat.
He said he would then rub their bare buttocks for sexual gratification. Children at the school - many of whom were from military families - had no access to a telephone.
The court heard Slade intercepted pupils' letters to their parents. He once gave a boy 'the beating of his life' after reading a letter home in which he asked to be moved to another school.
When asked by prosecutors if Slade considered himself to be a paedophile, he said: 'I think I would have to accept that description.
'Having had these put all before me and considered what I have done and having looked at the things I have produced, I have no choice but to believe those were my motivation.'
It also emerged that after the school closed in the 1980s Slade obtained a false passport by copying a swindle in Frederick Forsyth's 1971 novel Day Of The Jackal.
Prosecutors said he was thought to have trawled cemeteries until he found the grave of a boy who had died in childhood but would have been a similar age. He got a copy of that boy's birth certificate and used it to obtain a false passport.
After obtaining the passport, Slade travelled to India and Africa, where he set up schools and carried out 'charity work'.
Slade has for the past 21 years been dividing his time between the UK and India. His Anglo-Kutchi English School in Gujurat was supposed to help poor children but two years ago the Help a Poor Child Charity withdrew its support after learning of Slade's past.
A number of pupils there are said to have been sexual victims of his and are taking legal action against him.
Slade, of Burton-on-Trent, Staffordshire, was convicted of more than 50 offences and will be sentenced on Monday.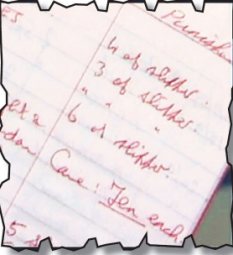 Horrific: A page from his beatings log

Stars and stripes in a journal of punishment
Derek Slade kept a meticulous record of who was given corporal punishment, when and how.
The school journal recorded the details of the implement used and how many strokes had been administered.
St George's School operated a stars and stripes disciplinary system where pupils got stars for good behaviour and stripes for breaking rules.
Slade said boys receiving six or more stripes in a week would be called to his office for beatings, depending on their age and severity of their perceived misdemeanour.
His record showed that in one eight-week summer term 45 boys were beaten, some for not doing their home work or 'messing around in the dorm'.
It offered no hint of the sexual pleasure he gained - but even in 1982 when corporal punishment was legal, there were serious concerns that he ran a regime based on brutality.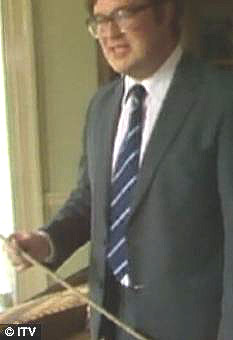 'I believe in it': Derek Slade with his cane defends corporal punishment when confronted by an ITV journalist in 1982
Confronted by an ITV reporter in 1982 he placed the cane he admitted using on his desk and protested his innocence.
'I believe in corporal punishment, which is not very often caning, it normally involves use of the slipper,' he said. 'It is not excessive, it is not normally frequent as has been suggested.'
Pupils were also paraded in front of the cameras to back him up - but the truth was very different.
Last night one of his victims, now in his 40s, said: 'I was taken into his office, once again trousers down, pants down,' he said.
'He horsewhipped me. I call it horsewhipped but it was the cane. I lost count after about 12, maybe umpteen times. I was bleeding.'
---
Family Friend Charged With Bare-bottom Spanking of Girl
By Dan Wheeler, The News-Times (Danbury, CT), December 3, 1996

LITCHFIELD, Conn. (AP) - A little league coach accused of repeatedly spanking a little girl after pulling down her pants has been charged with sexual assault.

Ronald Ellis, 30, of New Hartford, was in Bantam Superior Court on Monday. He was released on a written promise to appear in court.

Ellis has been charged with fourth-degree sexual assault and risk of injury to a minor in the October incidents.

According to an arrest warrant, Ellis ordered a 9-year-old girl to pull down her pants so he could spank her along a remote area of the Farmington River Turnpike while they were riding bicycles and again at a New Hartford firehouse.

Ellis is a volunteer firefighter.

Police said he also choked the girl's 8-year-old brother after the boy refused to obey him.

State police arrested Ellis on a warrant Friday. His next court date is Dec. 17.

State police said Ellis befriended the two children and their sister through an acquaintance with their father.

Copyright 1996 Associated Press.
---
School Head gets 18 months for spanking girl pupils
By Paul Stokes, The Daily Telegraph (London), October 1, 1996
A HEADMASTER who performed secret spankings on girl pupils for over 20 years was jailed for 18 months yesterday.
Kenneth Watson, 46, was allowed to continue working despite an official warning about his behaviour and carried out a further two attacks, Carlisle Crown Court was told.
A diocesan adviser visited the Roman Catholic primary school, where Watson also served as a child protection officer, after accusations by a pupil. Watson claimed to be stunned by the allegation that he had indecently smacked the girl and the matter was not pursued, but he was warned about the possibility of dismissal if there were further incidents.
He was arrested four months later, in February this year, after committing two further offences. As a result of publicity, 25 former pupils whose ages spanned three decades were to come forward and make allegations against him.
Watson, of Washington, Tyne and Wear, who is married with two children, admitted 11 specimen charges of indecent assault on girls aged nine to 15 at three schools in South Tyneside where he worked from the 1970s. A further four counts of similar offences involving boys were denied and allowed to remain on the file.
Paddy Cosgrove, QC, for Watson, said: "One worrying aspect is that if the diocesan adviser who went to see him in Oct 1995 remembers the incident as he says, then surely he and the local education authority were derelict in their duty by not taking this further."
"This was a gross breach of trust. You were headmaster and had the whole responsibility for the little community of your school."
Carlisle Crown Court was told that Watson gained no sexual gratification from what he did, but this was refuted by his victims. One told how she was made to wear a red gymslip when he smacked her and the garment was found by police when they searched his office. Others were spanked when he lifted up their skirts while alone in classrooms with him. Their "punishment" had been marked inside an exercise book.
On three occasions he pulled down girls' knickers and hit them on their bare buttocks. Psychiatrists said his problems were rooted in his childhood and Watson spoke of the incidents giving him "a cosy kind of feeling".
Judge Alastair Bell told Watson: "This was a gross breach of trust. You were headmaster and had the whole responsibility for the little community of your school."
Watson's wife, Kay, 43, is also a teacher and the only daughter of Judge William Hannah, who sits at Newcastle Crown Court. She is standing by her husband.
Police were alerted after a passing comment by a 10-year-old victim to her mother and another girl from the same school came forward after publicity. Watson telephoned the mothers of both girls to say there had been a misunderstanding and it was "only a joke".
After the hearing, one of the three women who gave evidence claiming that they had been assaulted by Watson while schoolgirls, said she could not believe his sentence.
"All along he has shown no remorse at all for what he has done," she said. "It has been self, self, self. They said he didn't do it for sexual gratification either but I don't believe that. I could tell by the way he was breathing heavily as he assaulted me that he was getting something out of it."
The woman, a 30-year-old mother of two, referred to in court as Miss E, said she was considering bringing legal action against South Tyneside Education Authority.
In a statement, the Diocese of Hexham and Newcastle said: "The Church strives in every one of its schools to provide the safest environment for the education and care of its children. So, any instance where a member of staff fails to safeguard children comes as a complete shock."
---
Fugitive spanker: Former FUMA teacher still on lam
By Lisa Provence, The Hook (Charlottesville, Va.), June 20, 2002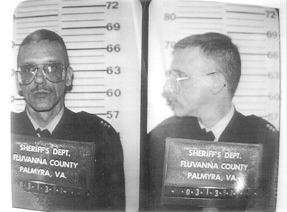 Gregory A. Moyer

A year later, "It's like he disappeared off the face of the earth," says Reed Shields in the Virginia State Police's fugitive division.

Moyer, 47, a former eighth-grade science teacher, had a penchant for paddlings-- in the nude-- and for documenting those spankings in diary entries and photographs.

Spankings actually are allowed at Fork Union Military Academy, but they're supposed to be done by the headmaster with the parents' written permission and only while the student is fully clothed. Moyer's spankings violated that policy on all counts.

According to court documents, the spankings began when Moyer offered to paddle a cadet on the buttocks in exchange for not reporting the cadet's demerits. Initially the cadet was clothed, but by February 1994, Moyer began administering the "whacks" on "bare ass," he noted in his diary. He told the cadets the photographs were for "documentation."

Soon the cadet was spanking Moyer's bare buttocks as well, with each event carefully documented in Moyer's diary. For example, Moyer wrote that in disciplining the cadet for smoking, he "made sure to hit different spots so no part of [the cadet]'s ass was left unred." It became a ritual that the person being paddled turned and saluted the paddler after each whack.

That ritual led to other rituals: a secret society complete with an initiation of running the school's cross county track nude. Other activities included nude tree climbing, nude wrestling, a nude Olympics, and Moyer tying up a cadet on a crossbar in his apartment, covering his body-- including genitals-- with shaving cream, and hitting him with a newspaper. Moyer, too, would be tied up, covered with shaving cream, and smacked with a paper.

During one shaving cream incident, a minor testified in court that Moyer had an erection at the time. In his diary, Moyer wrote, "The night was fantastic and one that I will never forget."

The escapades couldn't last forever. The nude photographs of two cadets caught the eye of a FUMA official who had gone into Moyer's on-campus apartment to check for a water leak. Academy officials called police, and Moyer was arrested in March 1997.

In the August 1997 trial, Moyer was convicted of 14 counts of taking indecent liberties. Two cadets were involved in the trial; Fluvanna County police investigator Lt. Bill Drumheller suspects others were involved in the incidents.

Moyer admitted that his relationships with the two cadets were "bizarre" and "wrong," but he denied there was any sexual intent. The prosecution, calling the games "sadomasochistic," said Moyer's documentation was "self-made erotica." Moyer was sentenced to 25 years in prison, all but three and a half years suspended.

He appealed the case. In October 1999, a three-judge appeals panel ordered a new trial on the grounds that even with a search warrant the use of Moyer's diaries violated his Fifth Amendment rights against self-incrimination, and that buttocks weren't sexual parts as defined in the Virginia legal code.

A further appeal in July 2000 upheld the original trial judge.

The weirdness doesn't end there. The family of one of the cadets posted a $50,000 bond for Moyer and let him live with them while appealing the case. When Moyer absconded, the family paid up with a certified check for $50,000, "and seemed happy to do it," according to Fluvanna Commonwealth's Attorney Jeffrey Haislip.

The Hook spoke to the cadet's father, who owns an insurance company in Richmond. Because the boy was a minor at the time Moyer was spanking him, the father's name is withheld to protect the identity of the former cadet.

"I've heard nothing at all from [Moyer]," says the father. "I don't know where he is, and I don't expect to hear from him." He pauses, "I wish I did know."

So how does it feel to be fleeced by a man you trusted and took into your home? "Pretty much like what you think it would feel like-- not a good feeling," he says. "He was a friend. It was one of life's lessons.... It hurt."

However, the father says he'd do it again, and Moyer's photographs and diaries detailing beatings of his son "didn't change my opinion one iota. I don't think he did what they said."

"Greg is certainly eccentric," adds his supporter. "There's no question he used poor judgment."

The man's son testified that the spankings were not sexual. So why the nudity? So that it would "hurt more," answers the boy.

The other cadet wrote in Moyer's journal that Moyer "is trying to introduce me to God" and that he was trying "to give me assistance and guide me through this corrupt, shaky world," according to a Richmond Times-Dispatch report.

The Times-Dispatch also reported that a clinical psychologist for the prosecution, Leigh Hagan, testified that Moyer is "socially awkward and nervous," but not a sociopath. The psychologist said Moyer is impotent and would be placed on the state's sex offender registry. However, Moyer's name did not turn up on a recent check of Virginia's sex offender website.

Also not turning up is any trace of his red Chevy Cavalier with vanity license plate number 94 MLS, a reference to the secret society. Special agent Shields has run the vehicle through all 50 states and come up with nothing.

He also had no luck getting Moyer on America's Most Wanted. "If we can get any information he's left the state, we could get the FBI involved," he says.

So how does a fugitive disappear so totally that there haven't even been any tips on him?

Former fugitive Oscar Junior McCauley escaped in Charlottesville while being transported by Nelson County deputies and was on the lam barely a month before he was captured. Moyer's disappearance without a trace puts him more in the league of suspected abortion clinic/Olympic Games bomber Eric Rudolph, who has been missing since 1998.

"I'd go to a small city and become employed using a fake ID," says Fluvanna investigator Drumheller. He warns that a fugitive would have to live a quiet life and avoid getting stopped by the police.

"I'm concerned he might be somewhere living under another name teaching at a private school," says Shields. He asks that anyone with information about Moyer call 800-552-0962.

Moyer's family in Pennsylvania told Shields they haven't heard from him and there authorities say he has not applied for a passport. Both law enforcement officers and his supporter in Richmond agree that Moyer's intelligence is an asset.

"I think when he left he knew exactly what he was doing," says the man who bet-- and lost-- $50,000 on Moyer.
---
Police Chief's Convictions For Spanking Program Go Bottoms Up
North Country Gazette, December 2, 2006

WARREN, OHIO---When teenage boys got caught speeding or running a stop sign in one town in northeast Ohio, instead of turning the traffic ticket over to the court for adjudication, former Fowler police Chief James Martin referred the youthful offenders to his unauthorized diversion program and spanked them, effectively circumventing the judicial process.

Martin was convicted last year on 12 counts of using a sham legal process and six counts of dereliction of duty but the 11th Ohio District Court of Appeals has overturned all but one of the misdemeanor convictions and returned the case to the Trumbull County Common Pleas Court where the ex-police chief will be resentenced on a single misdemeanor count of dereliction of duty.

He had been sentenced to two years probation and fined $500 on the charges as well as ordered to perform 120 hours of community service which he has already completed. He was sentenced to six months in jail but it wasn't specified for what charge which must now be clarified with 17 of the convictions being reversed.

The dereliction of duty charge stemmed from Martin keeping records of the unauthorized spanking program at his home but the appeals court held that he wasn't keeping records from the public because the program hadn't been authorized and records weren't required.

Martin had been tried at jury trial in February 2005 for administering corporal punishment to teen drivers and young men who agreed to be spanked rather than have their cases heard in court.

The officer was acquitted of 11 of 12 charges of assault brought against him with the jury deadlocked on the 12th count. He had also been found not guilty of the single felony count, theft in office for allegedly stealing the files of the diversion program from the town.

He had originally been indicted on 52 counts but 16 of those charges were dropped pre-trial including seven counts of unauthorized photography.

In one case, the mother of a 16-year-old boy agreed to allow her son to be paddled but when seeing the welts that he suffered during the first session, she refused to allow him to return for 14 more sessions that Martin had dictated. Participation in the unauthorized juvenile diversion program conducted by Martin was supposed to make speeding tickets "go away". In the case of the 16-year-old, he was sentenced by Martin to 15 spanking sessions and ordered to follow 23 "rules". At the first session held at the police station, the boy was struck on the bare buttocks three times with a wooden paddle.

[NOTE: The Cleveland Plain Dealer reported on 1/28/05 that videos of some of these paddlings were found in Martin's bedroom, labeled "Swat Train."]

Another "violator" was paddled five times once a week for three months. The mother filed a $200,000 lawsuit in federal court against Martin and three town trustees.

Martin had faced disciplinary charges over 10 years ago for paddling 20 minors for various infractions. [SEE: www.sconet.state.oh.us/rod/newpdf/11/2006/2006-ohio-6202.pdf]

In its decision, the appellate court said that if a juvenile was cited for speeding and Martin determined that the juvenile would benefit from the structure and discipline of his program, he would meet with the juvenile's parents and obtain their consent to their child being admitted to the unsanctioned program. The program would be explained to them in terms of the rules to be obeyed by the juvenile and the punishment and other sanctions to be administered.

The sanctions might include community service obligations in Howland Township, such as washing fire engines for the township. Typically, the punishment would consist of a certain number of "swats", that is, paddling the juveniles. The number of "swats" would depend on the severity of the offense. The "swats" were administered at the regular weekly appointment when the juvenile would report to appellant on his law-abiding activities and progress in school. However, if the juvenile broke the rules while a participant in the program, he might receive additional "swats." In all events, appellant was the sole arbiter of a juvenile's eligibility for his diversion program, as well as the extent and severity of the punishment and sanctions to be administered.

This aspect of corporal punishment was brought to the attention of the Trumbull County Children Services Board in 1992. A parent of one of the juveniles complained about the "swats." The Board investigated the matter for child abuse and concluded that child abuse was not substantiated. It also recommended that the "swats" stop immediately, though appellant ignored this recommendation.

In February 1993, soon after a new police chief was installed for Howland Township, Martin was ordered by the new chief to terminate his juvenile diversion program, and he complied.

In 1997, while still continuing as a police officer in Howland Township, Martin was hired as the part-time police chief in Fowler Township. He decided to restart his juvenile diversion program in Fowler Township. However, his program managed juveniles from both Howland and Fowler Townships in the Fowler Township premises.

In the meantime, Howland Township had started its own officially sanctioned diversion program that was approved by the trustees and administered by a diversion officer. In addition, during this time the Trumbull County Juvenile Court also operated its own diversion program, but Martin did not participate in the juvenile court's program.
---
Former Officer Craig Murrah Sentenced to 6 Months in Jail for Spanking Teen on Butt
Fort Worth Star-Telegram, January 26, 2010

A former Fort Worth police officer was sentenced Wednesday to six months in jail for slapping a nearly nude teen on the buttocks after discovering her having sex with her boyfriend in a north Fort Worth park in 2007.

A six-member Tarrant County jury deliberated only 50 minutes before convicting Craig Arlen Murrah of official oppression because he mistreated the 18-year-old woman after ordering her out of her car in Oakhurst Park shortly after 1 a.m. on June 22, 2007.

At Murrah's request, 213th District Judge Louis Sturns held a 90-minute hearing before sentencing the 39-year-old to six months in jail. The Class A misdemeanor carries a maximum sentence of one year in jail. Sturns also ordered him to pay a $2,000 fine.

Murrah, who was fired after he was charged in the incident, won't have to serve his time while he appeals his conviction. He will remain on bond until then, said his attorney, Wes Ball.

The woman, now 20, testified during the two-day trial that she and her boyfriend were having sex in the car when they saw the lights of a patrol car as it pulled into the parking lot. Because of the nature of the crime, the woman and her boyfriend are not being identified.

She said she tried to get dressed but was still nude from the waist down when Murrah made her get out of the car and put her hands behind her back. That caused her to drop the shirt covering her lower body, she said. Murrah forced her to bend over and spanked her on her naked bottom, she said.

After Murrah left the park, the woman's boyfriend said, he called 911 while following the officer's patrol car to a downtown police station. He said he initially gave the operator the wrong number for Murrah's car but corrected himself after he got closer to the car.

The couple talked to an officer about the incident. But after they couldn't reach him for several weeks, the woman and her father went to the Police Department and the woman gave a statement to Sgt. Pedro Criado.

The first officer was demoted because of his handling of the incident.

During closing arguments, Ball stopped short of saying the woman made up the allegations, although he said the couple's testimony had discrepancies. But he criticized police for not investigating the possibility that another officer had committed the acts attributed to Murrah.

Prosecutors Lucas Allen and Sherry Whelchel dismissed defense contentions that Murrah's activity reports support his claim that he pulled the couple over that night on a traffic stop at 1500 E. Northside Drive.

"Is he going to put down that he pulled the girl over and spanked her in the park?" Allen asked. "Of course not. That's ludicrous."

During deliberations, jurors asked to review the 911 tape of the man frantically telling the operator what had happened while the woman cried uncontrollably in the background. They returned the verdict about 20 minutes later.

Several jurors remained in the courtroom while Sturns heard testimony from five witnesses, including two former students and the former principal of Wedgwood Middle School. The three testified that Murrah, while a teacher and coach at the school, touched the two girls on the buttocks and thighs. He resigned after a school district investigation.

Murrah's mother and a longtime friend urged Sturns to grant him probation, saying he is a good father whose 5-year-old son would be devastated if his father were jailed.

Sturns said that he considered the impact on the boy but that Murrah's actions breached the trust of fellow officers as well as the community.

"I believe the message has to be delivered that you can't engage in this type of conduct and get a free pass," Sturns said.

"It's not something I can condone."
---
Ala. judge cleared of sex abuse in inmate spanking
By Philip Rawls (AP), October 26, 2009

MOBILE, Ala. — A former Alabama judge was cleared Monday of charges that he spanked and sexually abused male inmates.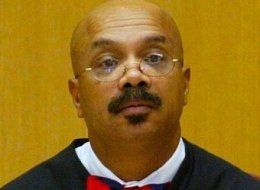 Judge Herman Thomas

Former Mobile County Circuit Judge Herman Thomas was found not guilty on seven counts after more than a week of testimony. Judge Claud Neilson threw out the remaining 14 charges.

Thomas wept and hugged his wife and supporters after the judge threw out the remaining charges. He left court without comment. As he left, one supporter threw her hands in the air and shouted, "Thank you Jesus." Other supporters gathered in a circle to pray.

Defense attorneys had painted the 48-year-old as a prominent civic leader who became a victim of felons who lied about him to manipulate the court system.

Prosecutors said Thomas brought 11 young male inmates to a private courthouse office and severely paddled their bare bottoms for sexual gratification. Some of the inmates testified they had sexual contact with the judge.

Defense attorney Jeff Deen said Neilson's decision to toss the remaining charges was not surprising because the jurors had acquitted Thomas on every charge where they could reach a unanimous decision.

Deen said Thomas' next goal is to regain his law license, which has been suspended by the Alabama State Bar. That could take months, Deen said.

District Attorney John Tyson said, "We are extremely disappointed. We worked very hard in this case and we did what we thought was the right thing." He said it was a difficult case because young men with criminal records were testifying against a well-known community leader, and the jury verdict reflected that.

"We went with the people we had," he said.

Carol Meeks of Mobile, a Thomas supporter who sat through the three-week trial, said she agreed with defense attorneys that Thomas was targeted by lying felons.

"He's a very good man and he's done a lot for this community. We need more people like him who look out for young people in our community," she said.

The jury of seven women and five men heard seven days of testimony before beginning deliberations late Thursday afternoon over charges of sex abuse, second-degree assault, sodomy and attempted sodomy.

Before the trial, prosecutors indicated that other inmates had been spanked, but were not included in the charges against the judge. Tyson said he has no plans to try to bring additional charges involving other young inmates.

Judge Neilson said he threw out charges of second-degree assault because the assault must be committed with a dangerous weapon or instrument. "The use of a paddle or belt in this case is not a dangerous weapon," he said.

He said prosecutors lacked evidence to support the sex abuse and attempted sodomy charges.

Early in the trial, Neilson told prosecutors he did not think they had brought the correct charges. When he threw out the remaining assault charges Monday, he said he probably should have dismissed them before sending the case to the jury, but he felt the jury should review them.

During closing arguments, prosecutor Nicki Patterson portrayed Thomas as a "Dr. Jekyll and Mr. Hyde" figure who carefully crafted an image as a mentor to troubled youth, while secretly paddling and sexually abusing young inmates for pleasure.

Defense attorney Robert "Cowboy Bob" Clark described Thomas as the victim of lying felons.

"He ain't no pervert," Clark told the jury in closing arguments.

Thomas was a Mobile County judge for 17 years, so popular that Alabama's top Democrats once recommended him to become the first black federal judge in south Alabama. He was one of the most well known men in Mobile, serving as trustee of two colleges, frequently speaking to church and youth groups and organizing mentoring programs for young people.

He resigned his judgeship in 2007 after a state judicial panel accused him of unethical conduct. A grand jury indicted him in the spring on felony charges accusing him of severely paddling and sexually abusing young men who appeared before him in court.

Some of the men testified he picked them up at jail, took them to a private office in the courthouse and gave them the choice of going back to jail or going free by taking a paddling with their pants and underwear down. They said they complied and took several strikes from the judge.

Some men testified they turned around during the paddlings to see the judge sexually aroused or exposed. One testified the judge made him masturbate, and a forensic scientist reported finding the man's semen on the judge's carpet. Another former inmate said the judge tried to force him to have oral sex.

The defense presented a Roman Catholic archbishop, a youth minister and two school principals who described Thomas' many hours of youth work.

"For that good deed, he gets a 103-count indictment," Clark said.

Those 103 counts were reduced by four-fifths before the case went to the jury because the prosecution dropped charges involving four of the 15 men named in the indictment and the judge threw out all extortion, kidnapping and ethics charges.
---
Dad could get jail for 'whupping'--Pleads guilty in bare-bottom spanking case
By Stephen Hudak, Reporter, The Plain Dealer (Cleveland), August 19, 1997

ELYRIA--Use the rod and you could go to jail.

Raymond Boyle could get two years in prison after pleading guilty yesterday to child endangering for spanking his teenage daughters with their pants down.

Gary A. Crow, executive director of Lorain County Children Services, said the case shows how blurry the line can be between discipline and abuse.

Ohio law permits use of reasonable corporal punishment, but prosecutors said Boyle's methods were a mental risk to his daughters, 15 and 13.

"It's not that he administered corporal punishment, but how," said Lorain County Prosecutor Gregory A. White. "He was way over the line."

Amherst police Detective Alex Molnar said Boyle, 39, required his daughters to strip naked from the waist down before spanking them last year.

Officials said one girl was spanked three times, with the first in January 1995 and the last in April 1996; and the other was spanked in April 1996.

Molnar said they confided the humiliation to a school counselor after the April incident.

Molnar said the girls were punished by their father repeatedly for minor things, including misbehaving on the school bus or disobeying his rules.

Boyle pleaded guilty yesterday rather than go to trial.

Prosecutors had planned to call a psychologist to testify that spanking the girls while they were nude posed a substantial risk to their mental health.

White said he doubted that Boyle would have been charged in Lorain County Common Pleas Court had he spanked the girls with their clothes on.

Although neither Boyle nor his lawyer, Michael Boylan, returned calls yesterday, court documents say Boyle did not touch either girl.

In an interview with Molnar, Boyle said he "whupped" his daughters with a belt, requiring that they strip because it added humiliation to the punishment.

He conceded this was wrong, the documents say.

Children Services said Boyle no longer has contact with the girls. Crow, the director of the agency, said parents often try to disguise child abuse as discipline.

"Ninety-five percent of the time we see child abuse, it's explained as an accident or [parents say,] 'The child was out of control. I was disciplining my child, and that's within my right,' Crow said.

While many parents and pediatricians consider corporal punishment an acceptable tool of discipline, new research calls it heavy-handed and ineffective.

The American Medical Association last week published research that suggests spanking has harmful long-term effects, including increasing aggression.

It concluded "spare the rod, spoil the child" was a myth.

Patti-Jo Burtnett, spokeswoman for Lorain County Children Services, said the agency suggests parents try nonphysical alternatives, like timeout.

"If you're unsure of where the line is, if what you do leaves a mark, hurts or humiliates, then you probably shouldn't do it," she said.

Boyle, who was free yesterday on a personal bond, will be sentenced by Common Pleas Judge Thomas Janas in about six weeks, after he is interviewed by the County Probation Department.